Captain Scarlet, Terrahawks and Thunderbirds fans, rejoice! There's a massive Gerry Anderson Audio Drama Sale going on over at Big Finish for the next few days!
This weekend, and through to Thursday, snap up some Gerry Anderson audio drama titles on special offer. Continue the adventures of the 1980s TV series, Terrahawks, or enjoy our celebration of 50 years of Captain Scarlet and the Mysterons in the deluxe anniversary box set and the Spectrum Files releases.
Last year we celebrated the 50th Anniversary of Captain Scarlet, the indestructible Spectrum agent in his fight against the Mysterons with an anniversary box set.
Five fully restored mini albums, eight television stories adapted for audio, and a brand new sixty minute Captain Scarlet anniversary documentary feature in our limited edition release: Gerry Anderson's Captain Scarlet and the Mysterons 50th Anniversary Box Set. You can pick up this box set at £30 on CD or £25 on download.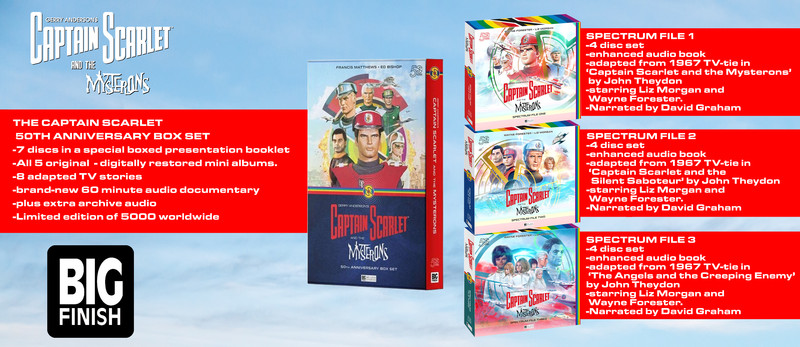 Gerry Anderson's Captain Scarlet and the Mysterons The Spectrum File One, Two and Three were also released for the 50th anniversary. Three novels by John Theydon were adapted by Gerry Anderson's son, Jamie Anderson, and brought to life with the voices of Wayne Forester (who voiced Captain Scarlet in the New Captain Scarlet noughties series), Liz Morgan (who originally voiced some of the Angels in the original television series), and the legendary voice of David Graham as narrator.
You can pick up each of these at £9.99 on CD or £8.99 on download.
You can also pick up the audio continuation of the 1980s TV series Terrahawks. Back in action after thirty years, Terrahawks is a fondly remembered action adventure comedy originally brought to you by Gerry Anderson and Christopher Burr.
In the year 2020, after Zelda – evil queen of the planet Guk – has destroyed NASA's Mars base and Earth is under threat. Zelda intends to use Mars as a stepping stone to conquer the Earth, and enslave the human race. A small organisation, the Terrahawks, is set up to defend the planet. From Hawknest, their secret base in South America, they develop sophisticated weapons to prepare for the battles to come.
Gerry Anderson and Christopher Burr's Terrahawks Volume Three was released in July 2017, making the series the longest running Anderson series to date! Why not try a series on audio today?
And for audiobook fans, you can pick up Shane Rimmer's autobiography at £2 on CD or download. Shane Rimmer's voice is familiar to millions from his role as Scott Tracy, the pilot of Thunderbird 1, but there are many other facets to his remarkable career.
In From Thunderbirds to Pterodactyls, Shane recalls the years he spent as an actor, voice artist and writer for Gerry Anderson's classic productions, as well as his appearances in other memorable shows such as Doctor Who, Coronation Street and Lipstick On Your Collar.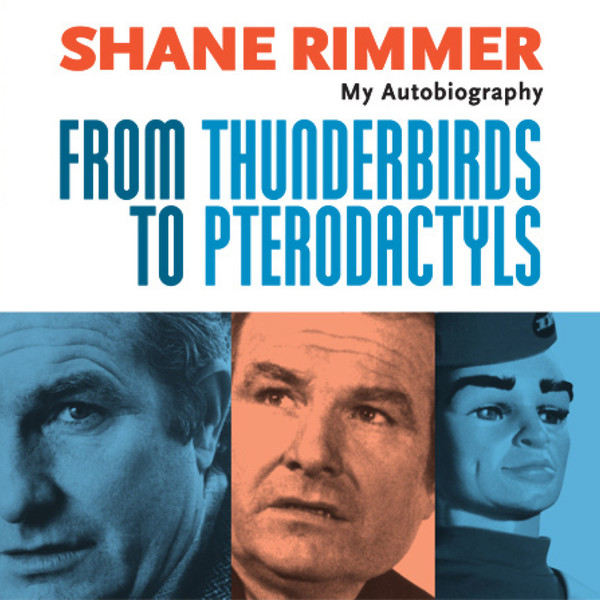 Head to URL: https://www.bigfinish.com/offers/v/gerry and enter the code ZELDA to access these special deals. The offers expire at 23:59 (UK time) on 11/10/2018, so don't miss out!
And to save further, make sure you check out the bundle prices of these releases, with a Worlds of Gerry Anderson bundle which includes all the Gerry Anderson audio drama titles mentioned here for £120 on CD and £95 on Download, or Terrahawks Volumes 1-3 for £50 on CD or £44 on Download.