To celebrate Valentine's Day, we thought it was time to pay tribute to all the lovebirds from the Gerry Anderson universe. The Anderson shows may be famous for their high-tech vehicles and amazing special effects, but they also feature a great deal of romance – some are successful, some less so. Let's start the countdown of the Top 10 Anderson Couples!
10. Ed and Mary Straker (UFO)
"I never want to see you again!"
Do not take relationship advice from Ed Straker – you have been warned. Ed and Mary started out their marriage with such high hopes until the job of defending the Earth from alien attack became a little too demanding for Commander Straker to handle alongside married life. Their honeymoon to Athens is cancelled and they hardly see each other during SHADO's initial set up. Mary discovers she is pregnant but her joy doesn't last long when she starts to suspect Ed of having an affair. During the confrontation Ed slaps Mary and she falls down the stairs. She requires an immediate Caesarean section but having been called away on urgent SHADO business, Ed misses the birth of his son. The marriage is well and truly over. And let's just say it isn't the last time Straker screws up in the family realm.
9. Dr Tiger Ninestein and Mary Falconer (Terrahawks)
"Mary, you're a day at the beach."
Mary Falconer has a soft spot for our favourite emotionally stunted clone. He may have had all the warmth of a bowl of granite crunchies, but Tiger's wicked sense of humour and sparse compliments were usually enough to win over Captain Falconer. We can't really guess what she sees in him beyond that. He's certainly got long term potential, what with the fact he can die and be replaced by an exact clone of himself. Maybe she likes the fact that for a little while during this process he has a completely different personality. Whatever the reason, Tiger's classic "day at the beach" line will never fail to put a smile on Mary's face, so that means he must like her a little.
8. Dick Spanner and Mae East (Dick Spanner P.I.)
"When she moved it was like watching a sack full of bowling balls."
The nature of Dick and Mae's relationship is never fully disclosed. She certainly seems to enjoy taking care of his needs, even though they are purely physical for the most part… oiling a few joints, taking care of some soldering, that sort of thing. Dick is often just too hard working to notice when Mae is flirting, and he'll often come and go as he pleases while in the grips of a case. He appears to be blissfully unaware of how attracted she is to him and tells her to move on after failing to forge her new career in movies. This leads, however, to a jaw-dropping incident in a strip joint that makes Dick see Mae in a completely different way.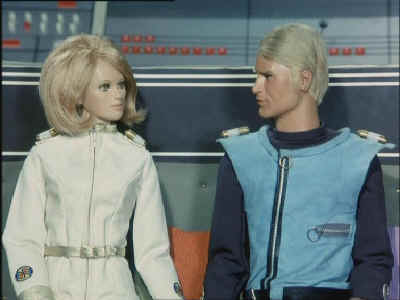 7. Captain Blue and Symphony Angel
(Captain Scarlet and the Mysterons)
"You were just… Adam."
Captain Blue cares a great deal for Symphony… or at least he does in her dehydration-induced dreams. But that notion must have come from somewhere so it's safe to assume that Blue and Symphony are at least a bit of a couple, even if we don't actually see all that much of them together during the series. He shows concern when Symphony goes missing in Manhunt and we learn that he gave her a medallion on her birthday. That's quite nice.
6. John Koenig and Dr Helena Russell (Space: 1999)
"I didn't know you cared…"

Being blasted into the infinite depths of space can make your job pretty difficult. Commander John Koenig and Dr Helena Russell know this better than anyone in dealing with the impossible situations Moonbase Alpha has to face. And so they formed a close bond when their voyage across the universe began. It took a while for their relationship to gain some warmth but eventually John and Helena became romantically involved. During many episodes of the second series, aliens attacking Alpha would threaten John and Helena's relationship to achieve their aim. For example in the episode Brian the Brain they are tested by being placed in separate airlocks and display the depth of their love by transferring air between them in an attempt to save each other from suffocation… would you take that test with your partner?
5. Steve Zodiac and Dr Venus (Fireball XL5)
"Even though you are a woman, you still have some real cute ideas sometimes."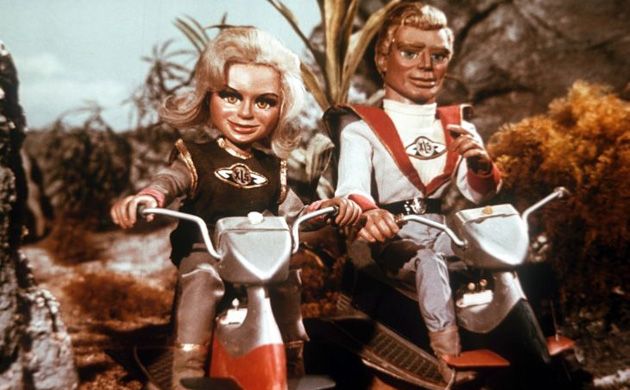 Steve certainly wins the award for being the most politically incorrect Supermarionation character ever for constantly making cracks about Venus being a woman, but we can still tell that there's a great deal of affection between these two space heroes. In exchange for saving her life throughout the series, Venus ensures that Steve is always in good health. Steve also demonstrates the patience of a saint when he allows Venus to bring the insufferable Zoony on board XL5. A lesser man would have given up on the whole relationship if their partner insisted on dragging an ugly, oversized and incompetent space alien around with them.
4. Officer Jack Haldane and Officer Jane Castle (Space Precinct)
"I don't see how I could possibly think less of you than I already do…"

Star Crossed Coppers! At first glance officers Haldane and Castle don't exactly seem like a match made in Altor's Orbit. Jack is overconfident and forward while Jane is reserved and ironical. The relationship evolves throughout the series' 24 episodes, beginning as run-of-the-space-mill one-sided attraction on Jack's part, constantly being snubbed by Jane. But by the halfway point, there's a real friendship developing between the two. It's not until the last episode that they finally get together, but who could forget the will-they-won't-they incidents on the road to that moment? The moment where Jack kisses Jane as part of their cover operation to infiltrate illegal underground fights or the time when Jane smooches Jack in order to give him the flu, which will save him from a much deadlier infection (that's real love right there folks!).
3. Captain Scarlet and Destiny Angel
(New Captain Scarlet)
"This doesn't mean I've fallen for you…"
Destiny Angel had a difficult time when her relationship with Conrad Lefkon came to a tragic end during a mission to Mars. But then so did the entire world because it was he, in his official capacity as Captain Black, who had started a war of nerves with the Mysterons. We've all had some dodgy ex's. But the brave and indestructible Captain Scarlet soon took Black's place and formed a relationship with Destiny. They can be sweet and loving off duty, but strictly professional on duty. Their idea of the perfect date is probably dinner and show… followed by shooting at a swarm of deadly Mysteronised cyber bugs.
2. Alan Tracy and Tin-Tin Kyrano (Thunderbirds)
"I just wish I was going with him… to keep him company you know…"
Young love! It's full of romance, anticipation and heartbreak. Alan and Tin-Tin provide us with all this and more as we watch their relationship blossom over the course of the Thunderbirds series and feature films. Things start slowly when Tin-Tin arrives on the island and it's clear that they would make a pretty cute couple. But when Tin-Tin's old flame, Eddie Houseman turns up, Alan is not happy. He becomes angry and jealous of the two of them. When Eddie is forced to desert Tin-Tin she is devastated and Alan is at a complete loss. Fortunately, Grandma is on hand to patch things up with a few white lies and soon all is well between them. From then on things were pretty smooth and steady with these two lovebirds with a particular highlight of course being Tin-Tin's very special birthday present for Alan that she was keeping in the bathroom. Of course, we hope Tin-Tin didn't mind Alan choosing to take Lady P to the Swinging Star instead of her…
1. Captain Troy Tempest, Marina, and Atlanta Shore (Stingray)
"Unlucky at cards, lucky in love."
A love triangle is always a good source for juicy drama between characters and Stingray captures this perfectly. The heroic Troy Tempest is captivated and intrigued by Marina, the beautiful girl from the under the sea, the moment he sets eyes on her. We'd like to think that unlike many other men in the series, Troy saw far more in Marina than simply the fact she couldn't answer back. In fact one of his strongest desires was to hear her speak. So where does this apparent infatuation leave Atlanta Shore? At first she is extremely jealous and suspicious of Marina but they soon become firm friends. By the end of the series it is clear that Atlanta is the true love of Troy's life. The last scene of the final episode, Aquanaut of the Year, raises the question of marriage. Unfortunately a battle stations alert prevents us from ever learning what the future holds for Troy and Atlanta…
That's the end of our top 10! Many thanks to Andrew Clements for his help in putting this list together. Who did we miss out? Were you surprised by who made the cut? Let us know in the comments down below!